Midwest Graphics understands that to create awareness and stand out in today's marketplace, your retail point-of-purchase/sales strategy has to make sense to a fast-paced consumer.  It needs to be clever, colorful and cost-effective. 
Midwest Graphics believes in "Out of the Box" thinking which pushes the status quo and allows our design group to work with you and your team in a collaborative environment. Together we
build ideas.
The unique and engaging designs of our retail promotional displays have put Midwest Graphics on the map. Why? Because we help your products get noticed.  People see your products, they buy your products and we get hired again.
Experience allows our designers to increase the speed to market and make sure we get it right the first time.
We understand the importance of a strong brand and make sure that we support your brand at every fold and die cut.
Midwest Graphics invests heavily in state-of-the-art computer-aided design and prototyping equipment so we can meet your deadlines and exceed your expectations.
POINT OF PURCHASE DISPLAYS
Point-of-purchase (POP) displays can be an end cap at a grocery store or a
free-standing display near the cash register. The point is to get noticed and
make it easy for your customers to see your products.
Retailers love POP displays because they help up-sell a customer who walked
in for one thing and left with another – or two or three. These displays are strong tools to optimize the retailer's sales space.
As a B2B or B2C designer, we can help you develop a display that will catch your customers' attention and increase sales.
Your product has to be shipped. Why not make the packaging a valuable retail selling tool.
Straight off the semi to the shelf, we offer a low-cost solution for those retailers who cannot afford a POP display, and maybe don't have time to stock a shelf.  All they have to do is rip open the display and it's ready for prime time.
Midwest Graphics understands their corrugated cardboard can be so much more than brown. It can be strong, functional and sell – all at the same time.
If our impressive POP displays aren't being used by the retailer – what's a business to do? With Midwest Graphics, you can count on effective, eye-catching packaging design that creates interest, tells a story and moves a shopper to the buyer category. We maximize the moment, allowing impulse purchases to happen.
Midwest Graphics looks at the end with the beginning in mind. That means we know because we watch your customers. We research,
we learn, we share and we move people to action.
Whatever the industry, Midwest Graphics has the designers who know how to capture the imagination of the consumer and move them to purchase.
From draft beer to children's cereal, we have the talent to communicate your brand in an instant.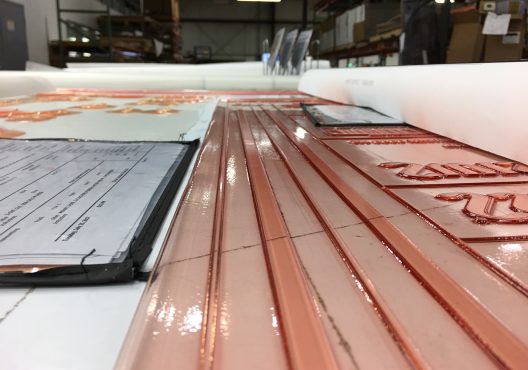 If you don't know what printing plates are, then you don't need them.
But for those of you who need them, Midwest Graphics has been
providing the best quality printing plates for more than 30 years.
We ask. We listen. We deliver.
At Midwest Graphics, it's our practice to research your needs and invest
in the proper equipment to provide you with the highest quality plates at
competitive prices.

36 to 48-hour turnaround time (Once art is approved)
Design
Liquid plates
Sheet plates
Color management
Training
Midwest Graphics & Steel Rule Cutting Die is known for its superior
customer service and the highest quality products available. From quickly
repairing existing dies to building new ones, Midwest Graphics & Steel Rule Cutting Die has the expertise to get the job done – period.
With more than 75 years of combined experience in the steel rule die industry, our workers know what it takes to meet your needs. The skill and knowledge of our veteran die makers allows us to make critical decisions fast.
We are known as the team who gets your equipment up and running.
We deliver.  On Time. On Budget.
Midwest Graphics & Steel Rule Cutting Die has a customer-based philosophy – your satisfaction is our highest priority.  We operate a full service die shop ready to serve you.  We offer consulting services, supplies, steel rule dies,
custom die-cutting and counter-plates. We have state-of-the-art equipment from production of Rotary dies to Bobst dies.
Midwest Graphics & Steel Rule Cutting Die is your first choice for custom fabricated steel rule dies. State-of-the-art CAD technology, combined with automated rule bending equipment, allows us to create dies quickly, allowing you to get your jobs into production sooner.  Our quality standards are second to none.  Our dies are strong and sharp for a long operational life.
We create steel rule dies with a ground edge that has been heat treated and hardened to industry standards, and offer them in various thicknesses with a variety of edge geometries for cutting, perforating, scoring, and creasing.
We design each die to meet 100% of your specifications.
From design and engineering to construction and inspection, we guarantee top quality workmanship and round the clock shift work to meet your critical deadlines. We are committed to helping you meet your production goals.
For more information about our custom steel rule die fabrication capabilities, contact us today.